I have a confession to make. All summer long, as plans of adventurous backpacking trips and epic camping weekends circulated amongst my friends, all I could think of was how I excited I was to bring my cast iron skillet with me. You see, these sturdy, heat-retaining vessels were actually designed to be used in hearths and fireplaces, making them the ideal campfire companion. Also, I would rather jump into a bottomless ravine than eat limp, rubbery hotdogs or *gasp* dehydrated trail food. And so, here are 12 gourmet skillet recipes for anyone who, like myself, prefers to camp in style:
Giant Cinnamon Roll Skillet because heaven really does exist
These Skillet Guinness Sausage Drop Biscuits are pretty much all I want to eat, like ever
Skillet Peach Cobbler yes YES YYESSSSS
Skillet Nachos because avocado, duh
Skillet Cornbread with Bacon Jam and Chive Butter sounds like the coziest, most decadent winter evening
Skillet Irish Soda Bread because hopefully we have some leftover chive butter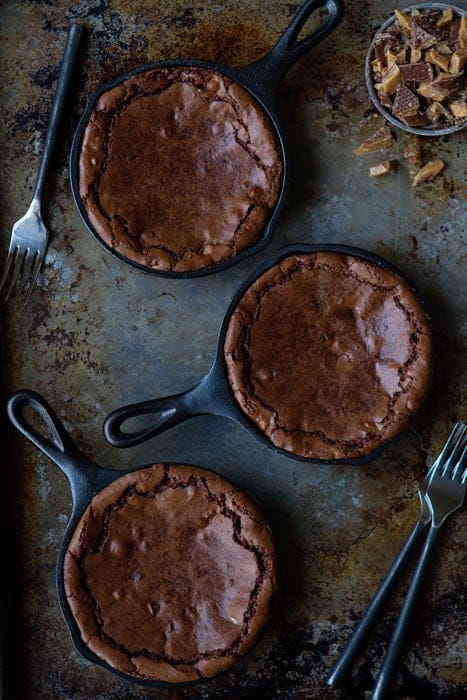 These Mini Skillet Brownies are giving me life rn
Mixed Berry Cobbler Skillet, which happens to be grain-free and vegan, so pretty much my new favorite summer dessert
This gorgeous 3-Minute Skillet Pizza. The recipe is in French but I'm pretty sure that only increases its sexiness
Completely losing my sh*t over this HUGE, deep dish Skillet Chocolate Chip Cookie pie with caramel and sea salt

Skillet Vegetable Lasagna for moments when cookies, pies and brownies just won't do it

And these Mini Skillet Apple Tarts, which, let's face it, are probably the only thing that will
Do you have a cast iron skillet? What's your favorite skillet recipe? Would you try one of these? 
Want more cooking inspo? Sign up for my weekly newsletter to get it delivered to your inbox each friday: www.cocinadecella.com/subscribe
Going to try one of these recipes? Tag me on Instagram: @cocinadecella #cocinadecella